Texas Civil War Museum
Fort Worth, TX
Courtesy of William Bozic, Houston, TX

Please contact
Webmaster
for any use of these images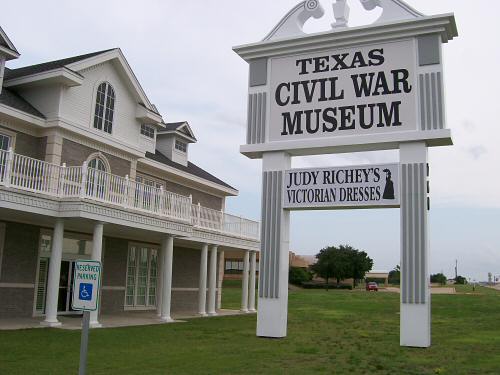 (June 1, 2007)

The TEXAS CIVIL WAR MUSEUM
760 Jim Wright Freeway North (aka I-820) Fort Worth, Texas 76108-1222
www.texascivilwarmuseum.com
Telephone 817-246-2323

There are three galleries in the museum: Civil War Collection, Victorian Dress Collection, and UDC Texas Confederate Flag Collection. There is also an excellent film "Our Homes Our Rights-Texas in the Civil War"

The uniforms are really quite a collection, but the weapons, and flags are also incredible. The sheer number of items on display from both Union and Confederate forces is really something to see. Most of the flags are Confederate and mostly Texan, but the collection of Union battle flags is also extremely impressive. The constantly changing/rotating number of dresses on display would make this museum a popular place by itself.

Due to the nature of the items on display, photos were not permitted in the display areas.
Sites by State Home Site Index